The owners, Bob & Jaye Parker, established Stony Brook in 1980 because of their great appreciation of Maine's vast wilderness and game. Both grew up in families that were hunting and fishing enthusiasts and it just seemed right that we wanted to share that knowledge and experience with others. We began this adventure and found it to be exactly what we envisioned.

We specialize in big game hunting and offer personalized professional outdoor adventures. Our commitment to you is to assist you in making your hunt productive as well as memorable. We offer Black Bear with hounds, Black Bear over bait, White Tail Deer, Moose and Bobcat hunts. Our hunter to guide ratio is 2 to 1 on Black Bear and Bobcat hound hunts, 5 to 1 on Black Bear over bait and Deer hunts and 1 to 1 on Moose hunts. We limit the number of hunters per week to match these ratios, thus keeping our commitment for personalized services. We provide all meals, lodging, transportation to and from the hunting area, and guiding services. Prices are all inclusive, with the exception of licenses and permits and there are no gate or hidden fees.


Stony Brook Lodge is located just outside the small town of Wilton, in the foothills of Maine's Western Mountains. We hunt the surrounding land including the Rangeley Lakes region. Our hunting area covers a vast area of about 3500 SQUARE MILES. We do this to insure that we do not over harvest the area we hunt, thus insuring you the opportunity for trophy game. Most of this area is paper company land where we lease bear bait sites. We also hunt some public and private lands. The Western Mountains of Maine are well known for their unique mix of swamps, beech and oak ridges, softwoods and apple orchards and rugged remote terrain. The vastness of this area provides excellent habitat and feed for the big game we are looking to harvest.
Stony Brook Lodge offers you the comforts of home in a rural setting. Swap stories in the game room or relax in the den. Sleeping facilities consist of bunk rooms containing one to three bunk beds, depending on the size of parties. Also, there are two rooms available with double beds for husbands and wives. Enjoy home cooked meals in the dining room with new and old friends.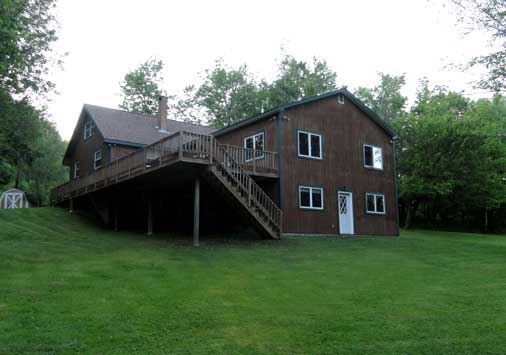 Stony Brook Lodge Outside View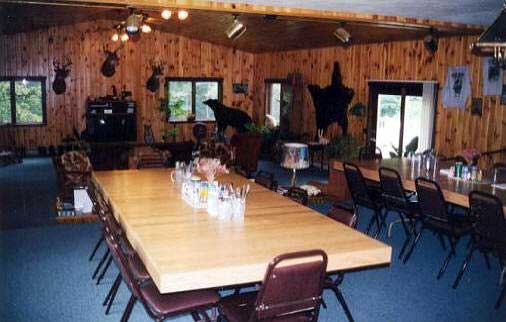 Stony Brook Lodge Inside View