Harvesting a trophy Maine buck is truly a memorable experience and will test the skills and abilities of any hunter. Our guides know the area we are hunting and concentrate on areas where there is evidence of big bucks. Our experienced guides are looking for the big rubs and active scrapes. Our terrain consists of rolling hills with a healthy mix of hardwoods and softwoods. We have swamps, beech and oak ridges, some farm land and an occasional abandoned apple orchard. We hunt over active scrapes, rubs, deer trails and feeding areas. We will assist the hunter in putting up a portable tree stand (if he/she wants to bring one), or we can make a ground blind. We also encourage still-hunting, which can be described as "sneak and peek."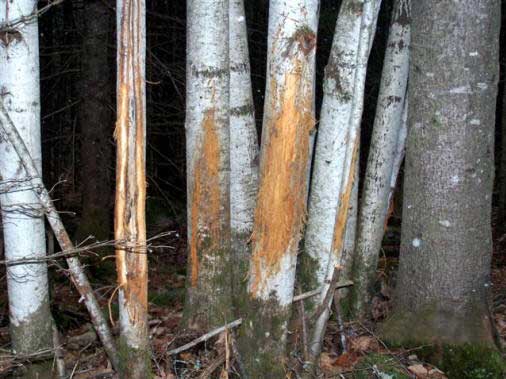 MAXIMUM HUNTER TO GUIDE RATIO = 5 / 1
PRICE: $1000 PER PERSON
One has to move very slowly, hunt into the wind, and be aware of the surroundings. Knowing how to read a compass and having a GPS is also helpful. Patience is very important. Big bucks don?t often make mistakes. Our Maine woods offer a challenging opportunity to bag a buck of a lifetime. Maine's Western Mountains are noted for their trophy size deer. In addition to deer, also in season and covered by your hunting license is bear, coyote, rabbit and partridge (roughed grouse). We do not charge any extra if you are lucky enough to tag any of these additional animals during your deer hunt.